Stacker Finds a Thermodynamic Solution with the Copperhead from Slice Engineering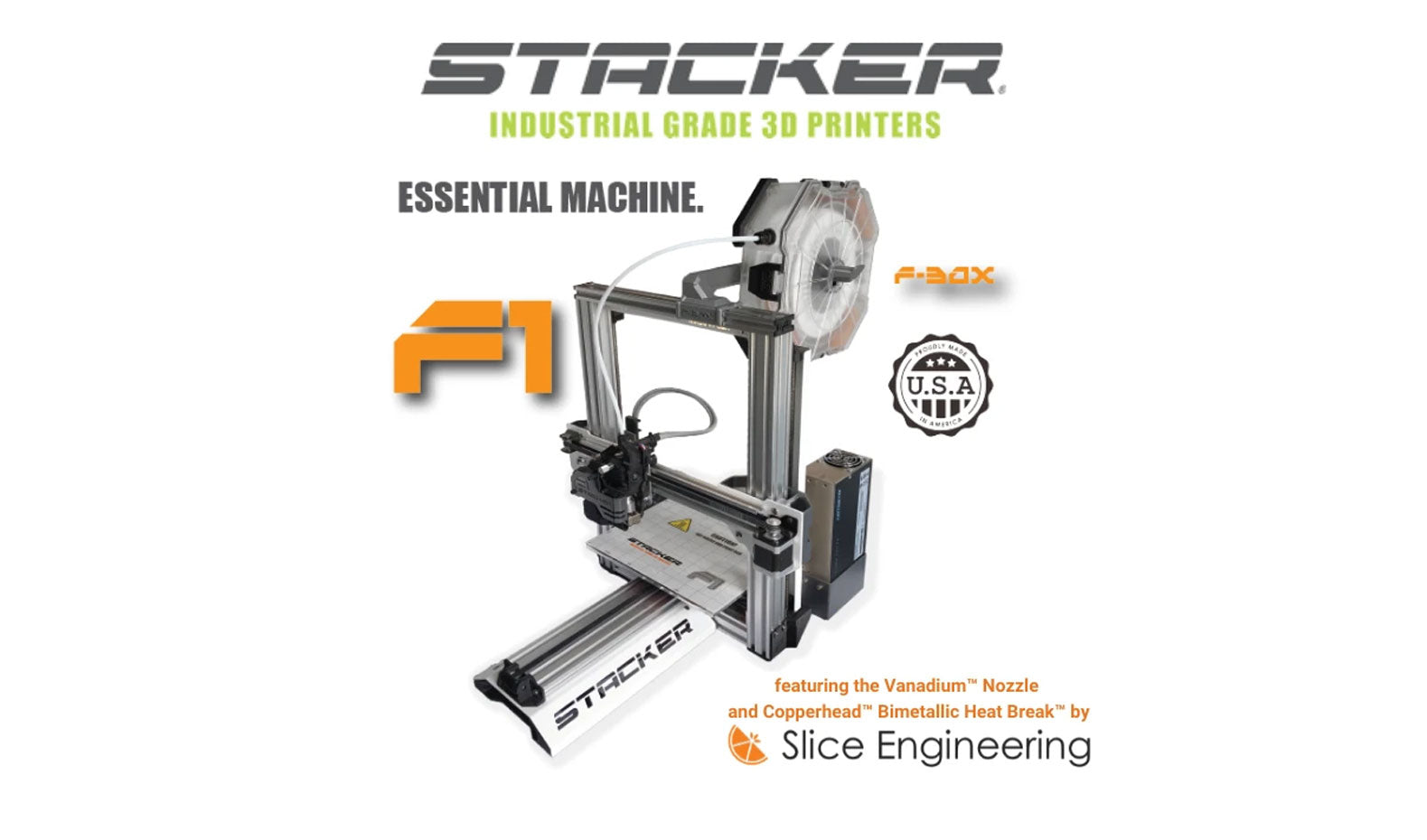 Stacker, a Minneapolis, Minnesota, based 3D printer manufacturer, has decided to upgrade their latest printer design to feature several Slice Engineering® components, including the Copperhead® Bimetallic Heat Break™ and Vanadium Nozzles®. You may know Stacker as the producers of the multi-print head S2, S4, and S4-XL machines.
Veterans of crowdfunding, Stacker's all-new F1 printer launched on Kickstarter last week, and was fully funded in less than 24 hours. The launch of the Stacker F1 will move the company into the desktop-industrial realm for the first time. The F1 will focus on staying local, utilizing as many US-made components as possible.
What Slice Brings to the Table
Every F1 3D printer will include the new Stacker F-box, the Standard Copperhead® Bimetallic Heat Break™, and a 0.4 mm Vanadium™ Nozzle from Slice Engineering.
In the search for the perfect components to furnish a desktop-industrial 3D printer solution, Norston Fontaine, President and Founder of Stacker, tested many different heat breaks, finally settling on the Copperhead® and it's Bimetallic Heat Break™. This was it! The perfect fit!
The Copperhead heat break is durable, budget-friendly, and made in the USA! 
"The global disruptions from COVID-19 make it more critical than ever to establish dependable supply chains. Additive manufacturing helps to establish that dependability. But shouldn't your 3D printer have a sustainable, local supply chain too? That's one of the many reasons we decided to link up with Slice Engineering"  
- Norston Fontaine, President and Founder of Stacker.
Industrial Meets Functional
During these uncertain times supply chains are disrupted on a global scale, making it critical for manufacturers to have reliable suppliers and short lead times, and for end users to have a product that can sustain wear and tear for as long as possible. 
The Vanadium Nozzles on the F1 are designed with extreme abrasion resistance in mind, to withstand printing 24 hours a day, 7 days a week. Even better, each nozzle will be pre-coated with the revolutionary Plastic Repellent Paint™! 
During testing, Fontaine recorded that he printed masks in 45 minutes with a 0.3 mm layer height using the 0.8 mm Vanadium Nozzle. 
"We are able to achieve...50% more volume over our titanium heat breaks" he stated, "We're over 35 cubic mm/sec with your 0.80 [nozzle]. No extruder skipping. And the melt zone is just standard V6 length. Impressive."
Plastic Repellent Paint™ applied to a Vanadium™ Nozzle
How to Get Your Own
The F1 by Stacker launched on Kickstarter Wednesday, July 28th, 2020 at 11:00 AM CDT. It reached over 180% of it's goal within the first 48 hours of going live, and was the featured Kickstarter project on Thursday, July 30th, 2020. Use the link above to head to the Stacker F1's Kickstarter page and pre-order your own all-new F1 Industrial Grade Stacker 3D Printer!